Trekking Mart is a team of committed peoples from various destinations you will visit in Nepal. With the utmost support of qualified and professional personnel, we are providing high-quality support to our every guest over the last 17 years. We pride ourselves in being responsible for travel, we genuinely focus on optimizing our visitor's level of satisfaction.
Creative, friendly, enthusiasts and naturally aware people is the actual asset of Trekking Mart who all carrying the common goal of getting up to you. Meet our team.
"Committed team with the purpose of meeting your dream together"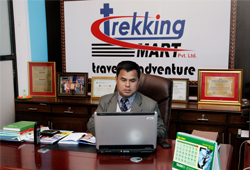 Gopal Babu Shrestha (Team Leader/ Owner)
Gopal Babu Shrestha started Trekking Mart over in 2000 AD to provide travelers to Nepal with a high integrity approach to tours and trekking tourism. He has quickly established himself not only as a leader in the industry but also as one of the most respectable trekking companies in the town.
He has been an active member of Trekking Agencies' Association of Nepal (TAAN), serving first in 2011-2012 as an executive member, and as a treasurer for 2013-2015.
He is the general secretary of Gorkha Tourism. Gorkha Tourism is another one of those volunteer organizations that Gopal has spearheaded in order to bring together others in the industry to work toward the development of economic growth for the underprivileged people of the district.
---

SagarShrestha (Director)
Sagar Shrestha is son my owner of Trekking Mart's Gopal Babu Shrestha. He is graduated with a bachelor in international; hospitality and tourism management from       Silver Mountain School of Hotel Management, Kathmandu.  Since his childhood he loves his father's professional in tourism, therefore we went to educate for the same.     He got the opportunity to do an internship in Four Season Resort in Langkawi Malaysia from his collage. Afterward, he eagerly is looking forward to work in tourism as he   enjoyed during his internship.
His father Mr. Gopal offers him a job at Trekking Mart after he finished the internship training program. He carries his study as well as the job at Trekking Mart. Since he   joined Trekking Mart he loves traveling around the country with costumers. He trekked Annapurna, Everest, and Manaslu regions as well as the renowned tourist     destination of Nepal.  From Jan 2019 he is looking after the company's business on behalf of his father.  He does plan and marketing of the business.